20 Best Tools For Writers: Add To Your Bookmarks!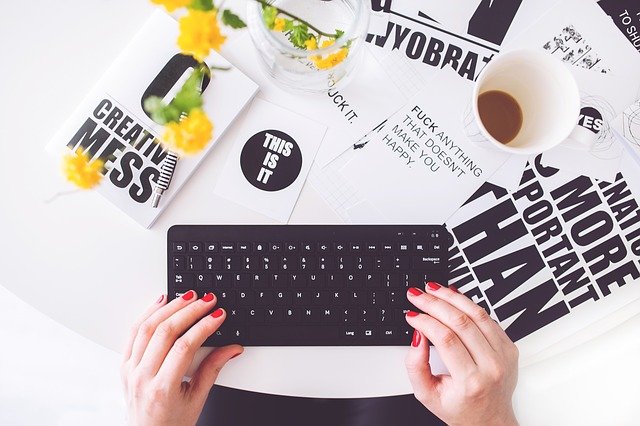 Writers today are spoiled. There are apps for everything. You can get your grammar checked, your work organized, receive writing prompts and blog ideas. You can even indulge in caprices like writing against the falling red maple leaves of Kyoto or savoring the clackety clack of an old fashioned typewriter. Branch out and discover new horizons in modern writing. There's an app for all your needs and desires.
Here are my latest favorite writing tools:
Goodnotes 4 is the latest version of the famed digital ink app. If you like to handwrite, but don't want to type out your handwritten pages later, this is the app for you.
Words U. It's an app that increases your vocabulary subconsciously. As you write text messages, it takes common phrases and replaces them with more advanced vocabulary words. Ex: help = succor, sure = indubitably, food = comestibles. The perfect vocabulary builder- and what writer couldn't use a good vocabulary?
Blog Topic Generator. If you're stuck on blog topics, these guys can help. I typed in "writing novels" and got these gems: "The Worst Advice We've Ever Heard About Novel Writing", "20 Myths About Writing" and "5 Tools Everyone In The Novel Industry Should Be Using". Subscribe to get a year's worth of blog topic ideas customized to your brand/specialization.
Daily Page wakes you up every morning with a new writing prompt. Write your response to the prompt and either file it away privately or parade it before the other subscribers. Great for times when you're lacking for ideas or to help you create a daily writing practice.
750 Words is a challenge offered to you and taken on by nearly 300,000 writers. The app tracks your writing habits over a month, marking which days you wrote, how long you wrote for, how fast you wrote, what time you started, etc. It also measures the themes and mood of your writing. You get points for meeting the daily quota and can compare your points to other people's points too.
Writefull allows you to select parts of your text and check it against three language databases: Google Books, Google Web and Google Scholar using easy-to-read stats. You can also alter your text and compare the new and old versions to see which one has more results.
Blogo is the newest in blogging. Its platform allows you to manage all your blogs from one dashboard. It has a photo editing app, an offline version and syncs with Evernote.
Ghost.A new open source blogging platform whose claim to fame is its simplicity. Elegant formats, easy-to-use, allows for multi-user blogs. Blog away in style.
Haven is a virtual writer's den with elegantly designed backgrounds to inspire writers. Write against a background of falling red maple leaves in Kyoto or burn the midnight oil against a backdrop of night-time in Berlin and more. And if that weren't already pretty awesome, they also offer help choosing themes to write on, plot twists ideas, and, my favorite, classical literature excerpts that have to do with your chosen theme.
Hanx Writer. If you like the sound of typewriters but don't want to start lugging one around like your hipster friends, try this app. Its virtual typewriter provides you the audio of an old-fashioned typewriter as you type, but without having to sacrifice the convenience of your modern laptop, tablet or phone. And, as a bonus, it was designed by Tom Hanks.
Reedsy is an online network that hooks you up with editors, book designers and marketers. You create an author profile and get connected to high-quality publishing freelancers. It's had good reviews and quote requests are free.
Scrivener is an application designed to help you organize long writing projects like novels and dissertations. It offers many tools:
A virtual cork-board.
Quick-reference panels so you can quickly pull up other documents and research when needed.
An ebook publisher for when you're finished.
Grammarly is currently the most popular and reputable editing app on the market. It runs a check for over 250 grammar mistakes on your text, has a contextual spell-checker and gives you grammar lessons to help you avoid errors in the future. You can use it for emails and social media posts as well.
iA Writer Pro is a text editor plus. It's many features include:
A totally blank screen to write distraction-free.
Focus mode that allows you to see just one line of your text.
Highlights adjectives, nouns, adverbs, verbs, prepositions and conjunctions.
Night mode with a black screen and white type to save your eyes if you're a night owl.
Syncs with Dropbox and iCloud.
Writepls is a selective collection of articles on writing and publishing. The topics span from "The 7 Things Writers Need to Make a Living" to "Guest Blogging Strategies that Helped Grow 36,733 Email Subscribers". It can also help you craft the perfect email and offers advice from George Orwell to boot.
On Writing. The much-lauded memoir about writing from one of the most prolific and successful authors of all time, Stephen King. King bares his writer's soul for your benefit. Read it for inspiration, a laugh, a cry and a kick in the bottom to get to work on your writing.
Let's Get Digital. A writing manual for the digital age by David Gaughran. If you want the world of online, indie and self-publishing revealed, this is the book for you. It explains tactics and options to empower writers in our brave new tech world.
Penflip is a collaborative app for writers who want feedback on their work. Your readers post comments and make changes to your text which you manage. All revisions are stored, so no worries about losing your work.
Draft is a complete collaborative editing package. Besides the standard collaborating and sharing features, it has:
Cloud service.
Publishers to almost anything (WordPress, Tumblr, Ghost, Svbtle, Blogger, Twitter, LinkedIn and more).
Transcription tools.
Presentation features.
Simplification button.
Analytics.
Ulysses is one of the most popular text editors for writers of all stripes. It's simple and streamlined, and allows you to write in various designed formats. Though light-weight, it still gives you all the editing features you could ever need. iCloud synchronization and doc exportation in many formats round out the package.