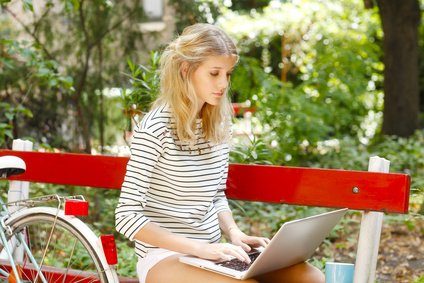 Do you need to polish up your writing skills a bit? Maybe you feel a little shaky on punctuation or grammar? And how's your confidence with verb conjugations?
If you feel your writing success is being held back because of a lack of skills, technical knowledge or expertise, we've got some good news for you. With so many outstanding resources available online, you can now easily get the support and information you need to develop your writing skills – without having to become a full-time student again.
With that in mind, we've curated this list of 21 free online education resources for writers. So, dig in and take advantage of the generosity of our fellow scribes.
Punctuation, Grammar and Spelling
WikiHow's How to Use English Punctuation Properly covers the basics of using correct punctuation to create a more polished product.
Grammar Girl's Quick and Dirty Tips provides easy tips on grammar rules and word choices guidelines to improve your writing style. And some easy to remember exercises that will help to remember grammar rules.
From the University of Ottawa's Writing Center, Hypergrammar is an electronic grammar course covering parts of speech, grammar, spelling, building sentences, using verbs etc.
The Capital Community College Foundation offers us the Guide to Writing and Grammar. This site is full of useful information on word choice and sentence structure, grammar, the writing process, and writing essays and research papers.
Paradigm Online Writing Assistant gives us access to articles on freewriting, basic punctuation, common problem areas, basic sentence concepts and choosing a subject. Well worth a visit.
From Rutgers University English Department, Professor Jack Lynch gives us his Guide to Grammar and Style. A miscellaneous collection of grammatical rules, tips on style, and suggestions on usage gathered from his classroom notes.
Writing Style and Skills
Scribe Consulting gives us a series of articles in Better Writing Skills that outlines proper use of ampersands, apostrophes, colons and semicolons as well as tips on using 'which' and 'that', 'who' and 'whom', and 'you and I' versus 'you and me'.
The English Style Guide is based on the style book new journalists at The Economist are given. It's full of helpful advice on journalism in general, and common mistakes and clichés plus guidance on consistency in punctuation, capitalization and abbreviations. It also houses a wealth of reference material.
Now freely available online, William Strunk's The Elements of Style is a timeless classic on writing and one of the most commonly used reference manuals. Every writer should have a copy, and now you can too.
Roy Peter Clark at Poynter runs a blog for writers and journalists and gives us the Poynter Writing Tools, a series of articles in the 'how to' format for improving your writing skills.
Technical Writing comes to us from Dr. Ronald B. Standler. He compiled this guide to help his undergraduate students with the grammar and style requirements necessary to write effective technical compositions. It covers the use of numbers in sentences, equations in text, citations and bibliography usage as well as verb tense and voice.
At Purdue University's Online Writing Lab, you can find hundreds of resources on writing, research, grammar, formatting and writing style guides, and professional writing tips.
Writer's Digest is a site dedicated to providing information on improving your writing skills, and the publishing process. It also has a community forum, editors' blogs, competition listings, events and a large library of educational resources for writers. This site should be in every writer's listing of favorite websites for quick access to a wealth of information.
Steven Barnes, novelist and screenwriter, generously shares the material of his nine weeks Lifewriting Class that he instructs at UCLA. He offers material on how to write, as well as how to structure your life for success as a writer.
On Blogging and Copywriting
From one of the leading authorities on successful copywriting and blogging, Copywriting 101 comes to us as courtesy of Copyblogger. It's an ebook with 10 lessons to get started on the basics of writing effective copy. You should also check out their vast library on SEO copywriting tactics, writing headlines and online marketing in general.
At Problogger, you can find tips and tutorials on crafting great content, writing headlines, how to start a blog, copywriting, and how to monetize your blog.
The blog at Men With Pens offers over 1,000 articles all geared to help you improve your content writing, blogging, freelancing, and entrepreneurial efforts.
Tools for Writers
Well, we did promise a site on verb conjugation, so here it is: the English Verb Conjugation tool from Verbix. Fill in the infinitive and you'll get a list of English verbs in every imaginable conjugated tense, from nominal forms to indicative and conditional right through to the imperative. Easy to use and understand, this impressive tool should be in every writer's kitbag.
Use Ornagoo's Spell Check to check the text, grammar, and synonyms of your entire website.
Using English has an online Advanced Text Analyzer to dissect your word count, lexical density, word and phrase analysis, as well as readability of text. You'll need to register first, but it is free.
Wordcounter will rank the frequency of words used in a given section of text. Use it to expose where you overuse words that result in repetition or redundancy.
Wow! There's a lot of free educational information and resources available online. We writers are a lucky lot. With such an abundance of valuable information available to improve our skills, it's really hard to justify not starting that new writing project. So check out some or all of the above tips to make your writing journey easier, and more enjoyable.
After all, you never know when some future blogger is going to be referencing your site or guide as one of the go-to resources for writing success.